Collected Experimentalisms 2005-2008 by U. G. Vilagos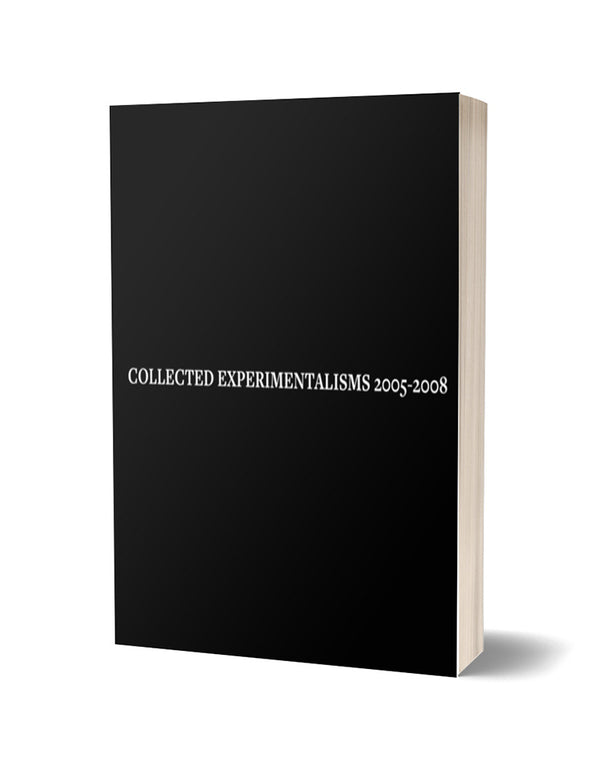 Over the course of a year, U. G. Világos awoke every night half an hour before midnight and left. On these long, nightly walks he would venture into the desolate, remote wilderness around his tent and write. Világos has previously spoken of these walks as an attempt to 'create a field recording of life that lives when the living sleep.' Dense, lyrical, mysterious, these notes provide a further glimpse into the life of a recluse examining the recluse of life.
PRAISE for Collected Experimentalisms 2005-2008:
It is no wonder Világos commands the attention he does.
— Penny Sick, Humane Incondition
Világos tells the truth in a way only poets can.
— Andrew Montes, Over!Under!Head
I am not sure I really care about Világos anymore. This is why.
— Edwin E. Edwin, The Edwins
Sometimes I lie awake at night, wondering if Világos is out there.
— L. M. Kander-Simpres, Blade Too
PRAISE for U. G. Világos:
Világos is an acute and brilliant poet, writing on being done wrong by the fiction of time and the system of the city. His is the poetry of the city that looks out into the night, time's winged sparrow, and notes the sky, knowing that there are few takers, but wanting the praise anyway. It is a manifesto for the protest poetry of the future, a classic in the tradition of Allen Ginsberg's Howl.
— Lizzie Violin, Lost Form Murders
Even in its war, or rather war of rhetoric and art, it creates room for the imagination, for the bodily act of constructing meaning. Világos has given us a collection of the temporal equivalent of large-scale physical protests, full of auspicia mundi and humus hile signs. 'We shall be citizens of the real, we shall not die in vain.' In the chaos of rebellion, new things will be born and the old, the patterned, will be left to die.
— Nicolette Grenadine, Sunday
This book is not only monumental, but also endlessly entertaining. It is organized by theme, and within each theme, not always by characters, but by subjects. The process of building these themes has been so complex and strange that it seems as though the true theme of the book is what Világos himself has called 'the graphic process'.
— Ricky Cole, How to Die in Paris

'For what is time, but the river in which everything that could not be has to flow through?' These are the most arresting lines in Világos' work. They are not just elegantly weird; they are a phenomenological ontology of the formative, disjunctive period of one's life. At the centre of the book is an interrogation of time in flux; of arrival and departure, reflection and dispersion, dreams and text, planning and co-creation. These are shifts in the distance between past, present and future. They are recognisable reflections of the changing geography of life. It is often said that literature is ultimately about a search for home. Világos is, perhaps, our most interesting and definitive answer to that search.
— Matthew Mitero, City of Geist
The Lark Sings Wind is a wonderful contribution to the literary landscape, nothing less than extraordinary, incredibly lyrical poetry that demands attention only to go on increasing in its tenderness, its cleverness, its interest and its deepness.
— N. O. Lannorth, The Daily Telegram
The Fashion Dog is a book that broods... rich in wit, in complex and interesting imagery... rarely less than deeply moving, but rarely more than superficially interesting.
— Hamish McCay, Contemporary Review
The Fashion Dog is the worst book I've ever read. It's so boring that if it were an animal I'd put it out of its misery. It's also so badly written I think you should just burn it.
— Jen Wills, Slalom
Terribly boring work that pivots between experimental and detrimental. I wouldn't recommend this to the neighbour's dog.
— Morty Lanyard, NEVER NOT DULL
Stunningly evocative... both lyrical and passionate... with a tender sense of longing, and a distinctive voice for each poem. In Világos' hands, the poetic line is not an end in itself, but something fundamental to reading."
— Alice Thompson, The Irish Indie
An astonishingly inventive writer... a poet who takes his readers on a long journey through complicated and treacherous questions of responsibility and of love.
— Pamela Carter, The Indie Audit
Wonderful, brave, funny, sad, exuberant and inventive... a beautiful collection... Világos writes with passion and feeling.
— Richard Washington, The Harrington Post
There are stories of all kinds here... [and] there is a shrewd understanding of what it means to be a human being in a changing world, but that's all he can offer in what is a, frankly, woeful offering" 
— Harry Boston, The Borden Globe
Poetry like a modern's dream... a gift from the land... the finest, most ambitious poetry since the playwright R. B. Avon... a celebration... delicate and piercing... in beautiful verse. 
— C. R. Delmar, The Book Review
Hauntingly beautiful. A striking voice... his tone, his almost lyrical imagery, his beauty of sound, his compassionate humanism and his joy in every day make this collection a singular treasure.
— J. J. Powers, The Independent Journal of Poetic Space
A startling, passionate, funny, heart-breaking work... liturgical and brilliantly powerful... by a writer at the height of his powers, Világos deserves a wide audience.
— L. F. Dion, The Telegram
Grief and love are so fascinating that they can raise even the most self-centred writer to new heights.
— Emma E. Hirsch, The Sunday Morning Herald
A majestic, exhilarating book filled with poetry, wit, prose and art... [and] a testimony to Világos's gift for evoking and making human a wide range of experiences... [a] noble and courageous work.
— Jean-Louis Monet, Le Monet
I read this and regretted reading it. I hate to say that. The idea is wonderful, but this is a big work about a big family, and in that big work, the family is not so great.
— I. M. C. Ewan, Sunday

His work is bold, intimate, demanding, and challenging... emotionally powerful and enrapturing.
— G. Lombardo, The Hundreds & Thousands
I've always felt Világos is a terrible writer, that his work is just a bad act. [but] Nocturnes is a performance, it's his memoir of his insomnia's occupation of his grief. If ever a work took me on a ride into its own dream, it's Világos's book.
— Liam H. Richards, The Fourth Moon
Világos's poetry is godawful. I hate him, I hate his work, and I hate being forced to live in the same world as him." 
— Steven Adamsbergh, Poetic Lyricism Journal
ABOUT U. G. Világos:
U. G. Világos is a poet, editor, and teacher. His new collection, The Sensible Archetypes of a God, is forthcoming in Winter 2023, and a collection of flash-poems titled Troubles, Nights, Meditations & Memoranda for a Passing Smile is forthcoming in 2024. He is the editor of We Still Use Poetry: The 2nd Quarterly Anthology of Contemporary Poetry in the Margins.
Broken Sleep Books
Join the Poetry Book Society for 25% off all books