Cliff Notes by Kathryn O'Driscoll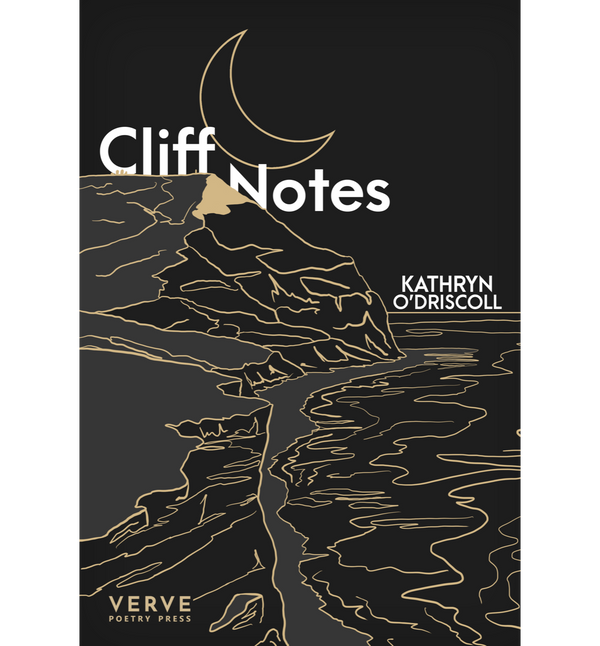 Kathryn O'Driscoll's debut collection comes from the edge of being alive, being sane, and being heard. Exploring grief, sexual abuse, mental illness, isolation and recovery, Cliff Notes forms the story of many losses and what is left behind. 
Poetry from the precipice oscillating between beauty and brutality, Cliff Notes examines how our experiences shape our ideas about who we are. Intrusive thoughts, metaphor, and facts are woven together until reality is indistinguishable from a dysfunctional mind's perception of it.
A biological cartography of the effects of trauma and silence, both enforced and self-imposed, this is a portrait of the body as the site of betrayal but also redemption. O'Driscoll's writing is sharply human as she unflinchingly excavates the grimmest places and combs through the decay to find if there is anything alive growing there still. Yet amid all the darkness, each poem is a defiant flare of hope that change is still possible.
Cliff Notes sets you adrift, struggling to keep your head above water that will either save or destroy you with its next wave. This collection won't let you catch your breath. This is poetry as survival and suffering, with no easy answers about which will win in the end. 
'Kathryn O'Driscoll's Cliff Notes demonstrates the alchemy of poetry: summoning colour from blankness, shapes from the void, and making life from the very things that threaten it.'                   –  Caroline Bird
 'Kathryn O'Driscoll uses words to build bridges across the chasms we all dread to fall into. This collection is passage across a heart that beats so loudly we can feel the tremors in our own lives. Here is a poet that that invites you to make the crossing and discover new territory in your own world.' – Shane Koyczan
Join the Poetry Book Society for 25% off all books