By the Hearth in Min a' Lea by Cathal Ó Searcaigh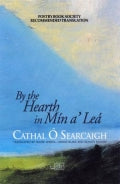 Bilingual Irish / English edition 
Translated from the Irish by  Frank Sewell, Seamus Heaney and Denise Blake
Poetry Book Society Recommendation Translation Winter 2005
Cathal Searcaigh is one of Ireland's leading poets, recipient of many major literary awards including the Irish Times Literature Prize, a member of Aosdna and, in Ireland, a well-known television and radio personality.
Whether writing about the beautiful Donegal landscape, or as a gay man about the intense emotions of love, or about voice and events from the past that resonate in the present, or simply telling a story, Searcaigh is always honest, clear-sighted and unafraid, lyrical, tender and funny: he tells it how it is.
This is the first selection of Searcaigh's poetry to be published by a British publisher and as such will be an introduction, for many English readers, to the startling freshness, energy, candour and inventiveness of this most colourful of poets.
A parallel text edition.
Join the Poetry Book Society for 25% off all books