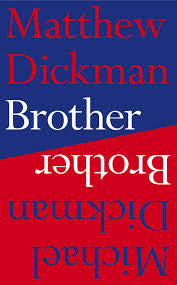 PBS Recommendation - Autumn 2016
A dual-authored volume of poems from the multi-award winning Dickman twins - leading voices in America's outstanding generation of younger poets.
Although the brothers extol differing inspirations (Matthew writes with the ebullience of Frank O'Hara, Allen Ginsberg and Jack Kerouac, Michael with the control of William Carlos Williams and Emily Dickinson), they are unified by the unflinching, remarkable verse they wrote when their older sibling tragically took his own life. It is these moving, grieving but life-affirming poems that solely comprise this dual-authored volume. Published in an inventive tête-bêche edition, the poems appear head-to-toe, communing in the middle, making Brother a searing but ultimately up-lifting journey of grief, love and family.
'Michael's poems are interior, fragmentary, and austere, often stripped down to single-word lines; they seethe with incipient violence. Matthew's are effusive, ecstatic, and all-embracing, spilling over with pop-cultural references and exuberant carnality . . . together, the resonance of the work is amplified.' New Yorker
Matthew Dickman is the author of All-American Poem (2008), 50 American Plays (co-written with his twin brother Michael Dickman, 2012), Mayakovsky's Revolver (2012),Wish You Were Here (2013) and 24 HOURS (2014). He is the recipient of The May Sarton Award from the American Academy of Arts and Sciences, the Kate Tufts Award from Claremont College and a 2015 Guggenheim award. Matthew Dickman is the Poetry Editor of Tin House magazine. He lives in Portland, Oregon.
Michael Dickman is the author of three books of poems, The End of the West (2009), Flies (2011, Winner of the James Laughlin Award), and Green Migraine (2015), as well as a book of plays, 50 American Plays, co-written with his twin brother, Matthew Dickman, in 2012. He lives in Princeton, New Jersey, where he is on the faculty at Princeton University.
Join the Poetry Book Society for 25% off all books