Broken Cities by Katy Evans-Bush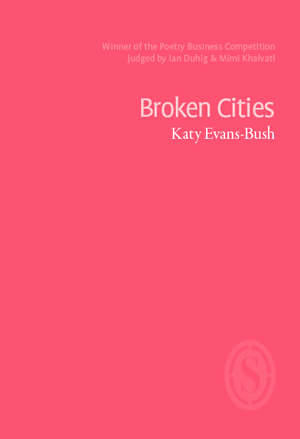 Cities exist inside as well as outside us. They are, not just buildings and people, but histories, ideas, stories and mythologies, both shared and private. Cities, like recordings (and like writing itself), are repositories of memory and knowledge. These poems, written in roughly the period since the Crash, use humour, linguistic experimentation and wide-ranging cultural icons to explore both global breakdown and personal crisis. Every city, constantly rebuilding, breaks its previous self underneath.
On every page there is the strongest sense of being in the thick of the human crowd... Buy this book! Read it on the bus! Give it to your friends! - Annie Freud
Instead of tricks and secrets, sweep and originality makes Broken Cities stand out. Katy Evans-Bush's joy, inventiveness and pleasure in the music of language really engages. - Ian Duhig
Katy Evans-Bush is a poet, critic, essayist and blogger. Born in New York City, she has spent most of her life in London, where she works as a freelance writer, editor and poetry tutor. She is the author of two poetry collections with Salt Publishing, Oscar & Henry (Rack Press) and Forgive the Language: Essays on Poetry and Poets(Penned in the Margins). She blogs at Baroque in Hackney, and is a Fellow of the George Orwell Foundation.
Join the Poetry Book Society for 25% off all books