Bright Poems for Dark Days: An anthology for hope Ed. By Julie Sutherland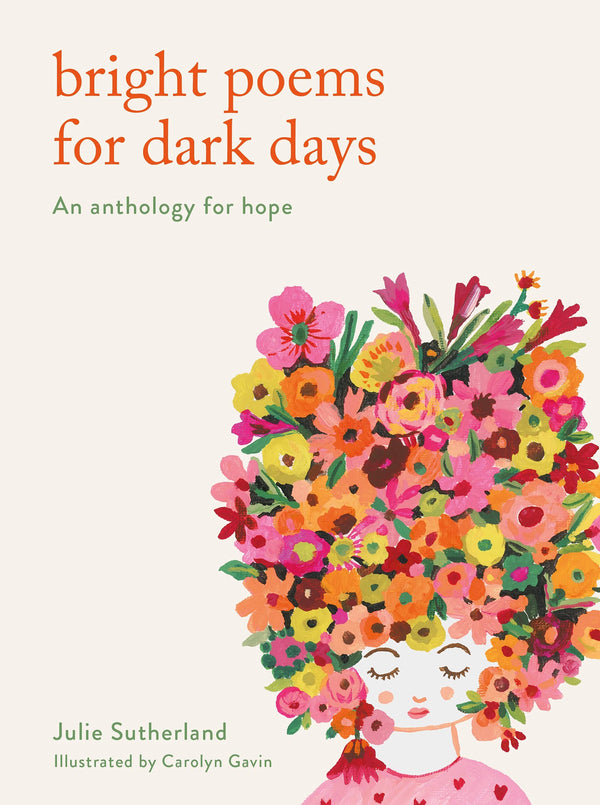 We all have days when we find ourselves in need of some positivity. In difficult times, the words of others can lift us up. Bright, joyful art to inspire hopefulness is combined with carefully curated poems, chosen to lift the spirits through the healing power of words. 
The book is divided into eight sections on the themes of hope, resilience & courage, joy, nature & escape, love, tranquillity, gratitude and comfort. Featuring a diverse range of writers from Oscar Wilde to Emily Dickinson, Robert Louis Stevenson to Maya Angelou, William Blake to Warsan Shire, the selections are accompanied by explanations and illuminating context that reinforce the positive mental health message. 
Combining uplifting lines of verse and joyful illustrations, this unique book provides a much-needed dose of hopefulness and happiness in turbulent times, whether as a thoughtful gift for someone in need of solace or a resource that can be turned to whenever we need to. 

Featuring: Carol Ann Duffy • Percy Bysshe Shelley • Maya Angelou • Emily Dickinson • Kahlil Gibran • Claude McKay • Langston Hughes • William Wordsworth • Emanuel Carnevali • James Weldon Johnson • Anne Sexton • William Ernest Henley • Siegfried Sassoon • David Wright • Ella Wheeler Wilcox • John Greenleaf Whittier • Ada Limón • Denise Levertov • William Blake •  Edna St. Vincent Millay • Oscar Wilde • Rachel Field • John Gillespie Magee Jr. • Armand Garnet Ruffo • Robert Louis Stevenson • Ursula Bethell • John Donne • Paul Laurence Dunbar • Warsan Shire • Naomi Replansky • William Butler Yeats • Toru Dutt • William Cullen Bryant • E. Pauline Johnson • Lady Mary Wortley Montagu • Alfred, Lord Tennyson •  Raymond Carver • Katherine Mansfield • Issa • W.S. Merwin • John Tobias • Ross Gay • Sara Teasdale • Elizabeth Barrett Browning • William Shakespeare • Tim Bowling • Mary Oliver • Christina Rossetti
Join the Poetry Book Society for 25% off all books