Breakfast at the Origami Café by Tess Jolly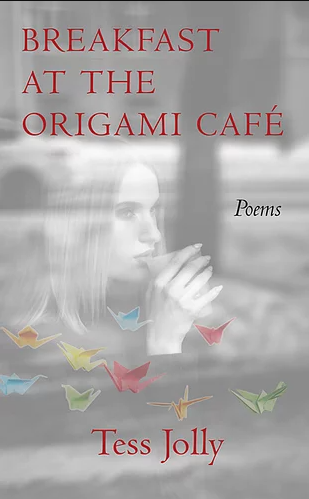 Published November 2020.
Tess Jolly's first full collection, Breakfast at the Origami Café, slides beneath emotional surfaces, the painted veneers we artfully create for ourselves, and enters the heart of darkness: loss, violence, trauma, recovery – delivered with a forensic eye for just the right amount of detail. This is art which is bold and yet vulnerable, precise in its use of language and yet passionately engaged, a book where shadows – both living and dead – are weighed, and found accountable, by an unflinching sun.

By force of imagination, these exacting poems make for a sophisticated debut which reconfigures experiences of family history, violence, illness and loss into rites of passage, charm or prayer. With a highly original gift for language, Tess Jolly's work comes from the place where storytelling meets poetic revelation. – Rachael Boast
Subtle and daring, Tess Jolly's poetry finds language for those who often 'vanish through the cracks' or fold themselves 'smaller and smaller'. Her phrasing captures the elusive, the unspoken trauma and tenderness that inhabit everyday silences. Whether teasing back the layers of family relationships or joining the adventure of a woodlouse scurrying across a page, these poems surprise yet are always deeply humane. – John McCullough
Join the Poetry Book Society for 25% off all books