Bloofer by Cathleen Allyn Conway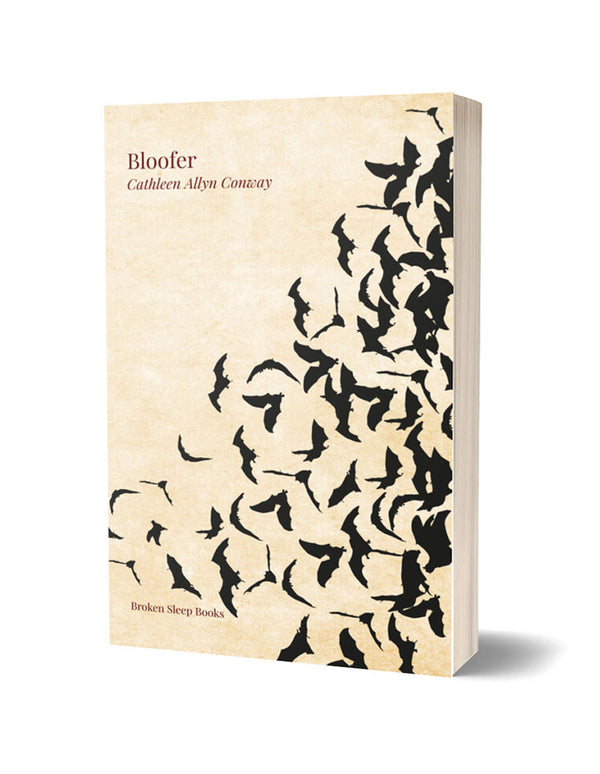 Bloofer by Cathleen Allyn Conway is an intoxicating mix of the playful macabre and elements of dark academia. Conway's illicit obsessions creep through like the full moon on a cloudy night: Bram Stoker, Plath in thrall to the occult, dark alleyways and haunted libraries. Bloofer hides razorblades between the pages that give a keen edge to this thrilling and mischievous collection of poems that disarm you with humour before they bite you.
PRAISE for Bloofer:
An act of devotion, resurrection and rescue, Bloofer is a significant achievement. These poems combine lyrical, incantatory phrasing with startlingly powerful visual qualities, all unified by a dedication to collage and radical technique. Conway has a remarkable ear for the effective phrase, the click and satisfaction when something modulates into a surprising and oddly apposite conclusion. Provocative, haunting and ultimately empowering.
   — Luke Kennard, Notes on the Sonnets
Bloofer is a queen-sized, blood-dripping, free-falling collection for creepy girls that holds flaming torches and pitchforks up to interrogate the entangled imagery of vamp and heroine. Conway dissects and reanimates gothic film and literature in a way that is both sensual and macabre, magical and grounding. This is not only a collection to sink your teeth into – it is also one that will bite back.
   — E.P. Jenkins, Rituals
ABOUT Cathleen Allyn Conway:
Dr Cathleen Allyn Conway (she/her) is a journalist, scholar, and academic. She earned her PhD in creative writing (poetry) from Goldsmiths, University of London. She is the author of Nocturnes (Cherry Dress Press, 2023), American Ingénue (Broken Sleep Books, 2021), All the Twists of the Tongue (Grey Book Press, 2018), and Static Cling (Dancing Girl Press, 2012). Originally from Chicago, she lives in London. @CatAllynC.
Broken Sleep Books
Join the Poetry Book Society for 25% off all books