Between Here and There by Sinead Morrissey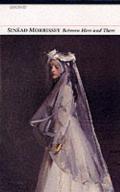 In her second book of poems Sinead Morrissey's worlds grow more diverse, encompassing the Orient, the Antipodes, America and an Ireland which recent history has changed and yet not deeply, a country observed through eyes that travel and time have made clear, dispassionate and disabused.
Between Here and There

 
answers the question where Sinead Morrissey has been since the publication of 
There Was Fire in Vancouver
 in 1996. Back in her native Belfast after several years abroad, she has produced a long-awaited second collection strung between four continents. These poems, which constitute a radical departure from her earlier work, move between the surreal artscapes of the American South West, the effects of global warming on a lake outside Auckland, and the graves of miscarried babies in Japan, to the difficulties attendant on the peace process in Northern Ireland and the instability of the devolved Assembly. Robust, surprising and technically accomplished, 
Between Here and There
 builds towards the critically-acclaimed Japanese sequence featured in 
New Poetries II.
 Avoiding the better-travelled paths of the Zen / Haiku traditions in Western poetry, Morrissey instead explores a world of heavy industry, environmental damage, disaffected schoolchildren and a traditional village culture vibrant with raw sexual energy.
Join the Poetry Book Society for 25% off all books