Belongings by David Constantine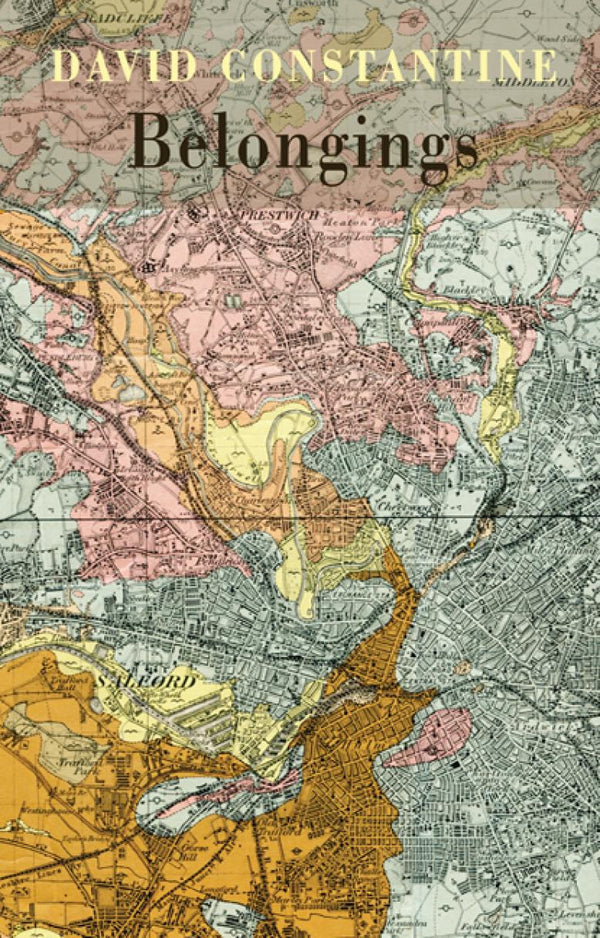 Like the work of the European poets who have nourished him, David Constantine's poetry is informed by a profoundly humane vision of the world. The title of his eleventh collection, Belongings, signals that these are poems concerned both with our possessions and with what possesses us. Among much else in the word belongings, the poems draw on a sense of our 'co-ordinates' – something like the eastings and northings that give a map-reference – how you might triangulate a life.
The poems ask: Where do you belong? And have in mind also the hostile:  You don't belong here. Go back where you belong. Many, possibly all, the poems in the collection touch more or less closely on such matters. Perhaps all poetry does, showing a life in its good or bad defining circumstances. In the poem 'Red', the defining geography is literal, drawn from an old geological map of Manchester in which Constantine finds 'the locus itself, a railway cutting / Behind the hospital I was born in', from which the paths of a life led outward. In other poems the particular becomes universal, a territory holding all our belongings, our memories of the people and the places we hold in our hearts. Behind these explorations another kind of belonging is challenged: our relationship with the planet to which we belong, but which does not belong to us.
'The mood is both tender and desperate, with something of the uncanny in its blend of the recognisably human and apparently Other… His religious regard for the world (not the same thing as religious conviction) produces a strange translation of its ordinary terms. Its colours and joys and terrors are heightened as though by fever, yet at the same time brought into clearer focus.' – Sean O'Brien, Poetry Review
'Constantine's peculiar vision is an uneasy blend of the exquisite and the everyday…the beatific, the ordinary, the rebarbative even, are almost indistinguishable… Overwhelmingly the poems are intelligent and well-turned, setting out the tensions between innocence and experience with fine control.' – Elizabeth Lowry, TLS
Join the Poetry Book Society for 25% off all books