Basic Nest Architecture by Polly Atkin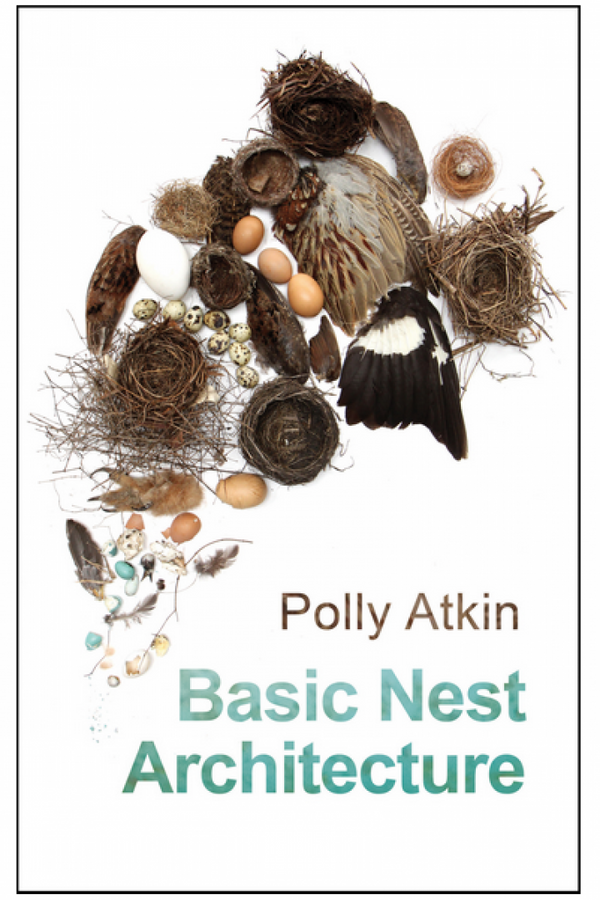 Basic Nest Architecture, Polly Atkin's first collection of poetry, marks a startling new talent. Known for a couple of prize-winning pamphlets, including her Seren/Mslexia prize-winning Shadow Dispatches, and her Michael Marks nominated Bone Song, and widely shortlisted for competitions, Atkin has already built up a loyal readership for her complex, intelligent, densely metaphorical lyrics, often inspired by the beauties of the Lake District where she has made her home for a decade.

The book is divided into three sections: the first contains poems quite directly inspired by the author's move from London to the Lakes. In the beautifully bee-haunted (And Troubadour prize-winning) 'Colony Collapse Disorder' the protagonist says "To leave the City was to leave one's memory./Outside was a garden gone wild." The poems begin to discover and enact the spells cast by nature, landscapes and animals become charged with tension as in 'Heron/Snow' where the bird carries "worlds in the cipher of your feathers." Later, one of the lakes appears like "a blue-green iris of one great eye". The author's imaginative grasp excludes cliché, and she expertly grapples with her own animal obsessions as in the lively 'Road-Kill'.

Most of section two moves back in time and uncovers earlier locations and subjects. It is clear that the celestial heavens, weathers and things seen from city windows inspired the poet earlier in her development. But there is a distinct sense of claustrophobia in some of the poems like 'Dreams': "You are sick to death of my dreams./I drag them out, one after the other." The wonderful 'Strength in Winter' is a parade of glorious detail concerning the Constellation Leo in all its manifestations, it is a full-bodied fantasy to console the protagonist for the gloom of the season.

The final section contains more painful work, literally and figuratively. These poems are hints from the autobiography of the poet who suffered for many years from a mysterious and debilitating illness. The poem 'Begin' recalls a sixteen-year old, purloining doctor's letters from her mother's handbag so she could try to secretly decipher them, as if it is almost a game: "then you play medical snap with the encyclopedia, trying to match up your blood with its names." Other poems are less literal, but use these experiences to reach-out towards a wider metaphor, such as in 'Imaging' where an MRI inspires musing on other dimensions "I met its whirling motion in the dark".

The remarkable poems in Basic Nest Architecture are a testament to the persistence and artistry of Polly Atkin. As well as being profoundly personal, they reach out to the modern world in all it's complexity and diversity.
Published by Seren on 27.02.2017
Join the Poetry Book Society for 25% off all books