An Aviary of Common Birds by Lalah-Simone Springer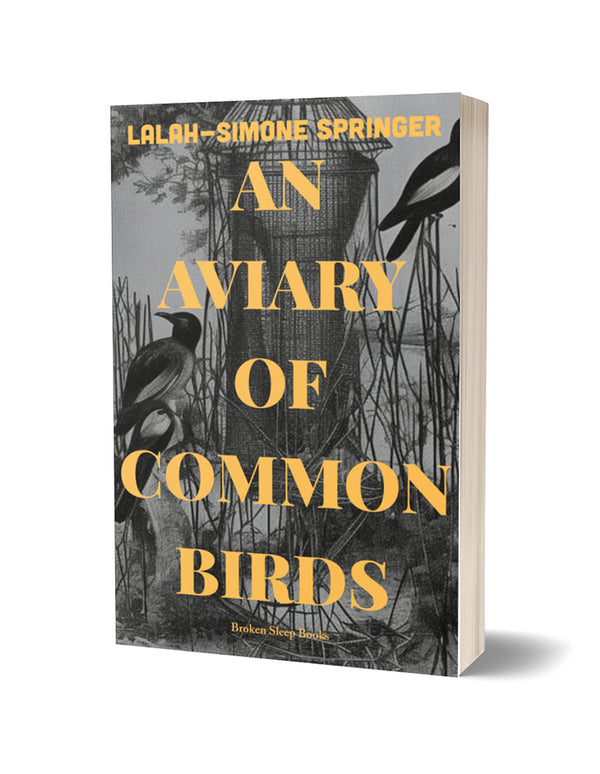 An Aviary of Common Birds is Lalah-Simone Springer's first collection of poetry. It is an emotionally raw work built on the poet's deep wells of inner strength and heart-warming sensitivity. Springer's poetry asks questions about love, family, community and working class relationships, and at the heart of the writing is acceptance. An Aviary of Common Birds is a collection which is always there for the lonely, reaching out a hand, dreaming of a brighter future.
PRAISE for An Aviary of Common Birds:
Alive with the street songs of East London, Lalah-Simone Springer's searching, tender poems speak through the sensory worlds of a first date 'lesbian manicure',  the 'shukka-shukka sound' of competitive clothes-washing,  the 'sharp shock of pink, juicy fruit'. Moving from loss and desolation into a new-found-land of queer rapture, An Aviary of Common Bird's voices capture the raw immediacies of desires and their fulfilments. Intoxicating and compelling, these spaces of transformation, liberation and self-claiming are urgently generous.
   — alice hiller, bird of winter
An Aviary of Common Birds is a breathtaking collection. A celebration of Black womanhood, queerness and the endz - these poems exude vulnerability, and take us on a journey through love, community, and conviction.
   — Desree, I Find My Strength In Simple Things
A thought-provoking collection exploring memory, relationships, and the commonalities between people. Lalah's care. Her love, wit and frustration permeate through these poems.
   — Yomi Ṣode, Manorism
This collection is connected to worlds beyond this time. Trust the invisible currents. I was led to history, to other poets, through love, and lust, and lostness and return. It was a timeless fluttering.
   — Deanna Rodger, I did it too
ABOUT Lalah-Simone Springer:
Lalah-Simone Springer is a poet and speculative fiction writer from Dagenham, Essex (she/they). In 2021, an early manuscript of An Aviary of Common Birds was long-listed for the #Merky New Writers Prize and they received the Community Engagement Artist Grant - for artists that reimagine our shared spaces and stimulate social engagement, creative expression and collective empowerment. Previous collaborations as a performance artist have been staged at The Barbican, Whitechapel Gallery, Folkstone Fringe and Almanac Project Space.
Broken Sleep Books
Join the Poetry Book Society for 25% off all books