All the Men I Never Married by Kim Moore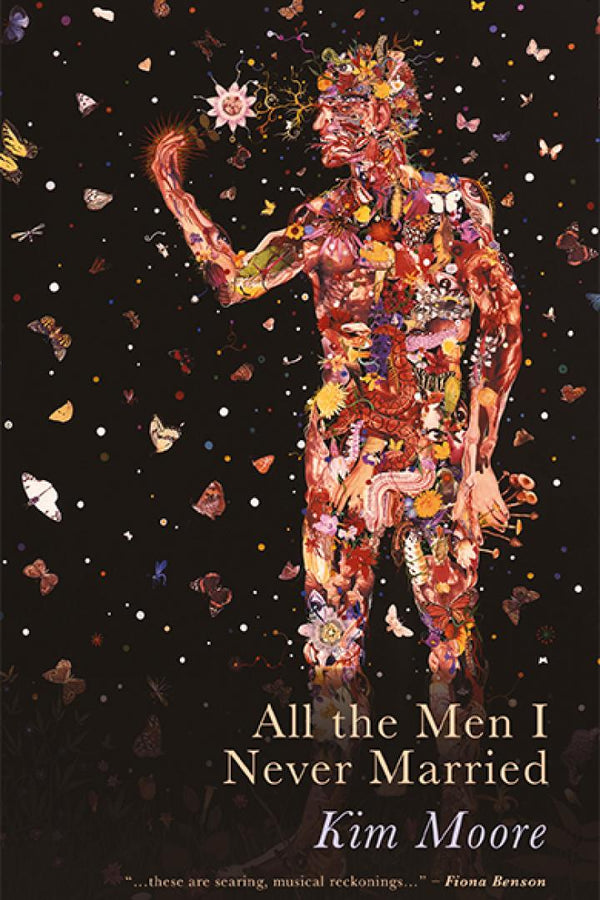 Winner of the Forward Prize for Best Poetry Collection 2022
This eagerly awaited second collection of poems from Kim Moore is pointedly feminist, challenging and keenly aware of the contradictions and complexities of desire. The 48 numbered poems take us through a gallery of exes and significant others where we encounter rage, pain, guilt, and love.
The book opens with a rally-cry that is also a warning: 'We are coming under cover of darkness,' and continues with the description of 'We' as being woman, both witch-like (feared) and oppressed, with 'hobbled' childhoods and spaces that were 'given'.
The book moves in a roughly chronological way from here, with early poems about the innocent friendships of childhood that have a dreamy, anticipatory quality. They foreshadow a later eroticism, but also hint at fear, with the awkward boy with 'unwashed clothes': 'We hated the way you followed us around…'. Then come the terrifying episodes of violence or near violence – incidents in which our narrator barely escapes rape at a party, or where the narrator's friend suffers the consequences of defending herself from unwanted attention in a nightclub, 'that being in public is a dangerous thing'.
There are also amusing anecdotes as in 12: After the reading… which reports a confrontation with a male in the audience who accuses her of objectifying the male gender. The author observes a naïve younger self just coming to terms with sexuality and speaks of desire, touching upon its inherent power, its temptations and deceptions. There are a number of poems that re-enact the 'easy misogyny' of everyday life and observe it from an appalled distance. An episode with a taxi driver where casual banter becomes increasingly threatening rings only too true.
All The Men I Never Married is a powerful collection of deeply thoughtful and deeply felt poetry.
"All the Men I Never Married is absolutely gripping; I've been reading and rereading it obsessively. Moore's dazzling catalogue of poems swivels the spotlight onto her male subjects with a lyricism and genius "as high and bright as a lantern". Sometimes nostalgic, sometimes wounded, and sometimes furious, these are searing, musical reckonings with the indifferent lovers, the misogynists, the gorgeous wonders, the heartbreakers, the stalkers, the drinkers, the inspirational teachers, and the abusers we still fear, as Moore confronts both the major harms and the frustrating coercions of being female in a male-dominant world. We are tired of being threatened and hurt, tired of being talked at, tired of being told what we ought to mean; these sublime poems say it all, and it feels like rain after drought, a beautiful release. This book is a revolutionary and subversive requisition of the female gaze, and it will be canonical." – Fiona Benson
"From the first time I heard Kim Moore read some of these poems, I knew the collection which followed must be a classic. I love the times in these poems – such as the moment in the first poem when a list of former loves gives way to the extraordinary lyric line 'all we are to each other is ghosts' – when, without turning away for a second from any of life's realities, experience is rendered completely beautiful. These deeply empathetic and unforgettable poems go everywhere, see everything and one feels, again and again in this collection, that a poet of the greatest gifts is addressing the most important of subjects, for all of us. We meet these transcendent, vital poems with gratitude and celebration."  – Jonathan Edwards
"Moore's poetic testimonials expose the underbelly of societies misogynist micro infractions. These deceptively plaintive lyrics are fraught hymns that testifies, catalogues, and interrogates the policing of women's bodies in contemporary society. Her poetic witnessing excavates these ordinary infractions committed daily alongside the ensuring silences that haunt women's desires and exploit their vulnerabilities. Her provocative poems are urgent and necessary and vital." – Malika Booker
Join the Poetry Book Society for 25% off all books