Alice in Winterland by Julie Egdell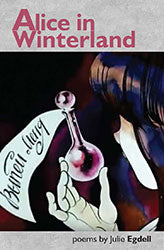 Growing up in Whitley Bay, Julie Egdell never knew how much she had in common with Lewis Carroll's Alice. But when she went to work in St Petersburg she discovered that she was the spitting image of the Russian version of Alice – not Tenniel's blonde school-girl, but the dark-haired 'Alisa' of Soviet illustrated children's stories, sarcastic and cruel and very Russian. A new city, a new language and a new identity. What could possibly go wrong?
Alice in Winterland is the story of a strange and subversive wonderland, of a worm who thinks he is a caterpillar and the Baba Yaga who became a witch. It's a book about life in post-Soviet Russia, mad hatters, tears and temptations. It is a story of exile, heartbreak, loneliness and longing, about falling down a cultural and linguistic rabbit hole.
Join the Poetry Book Society for 25% off all books