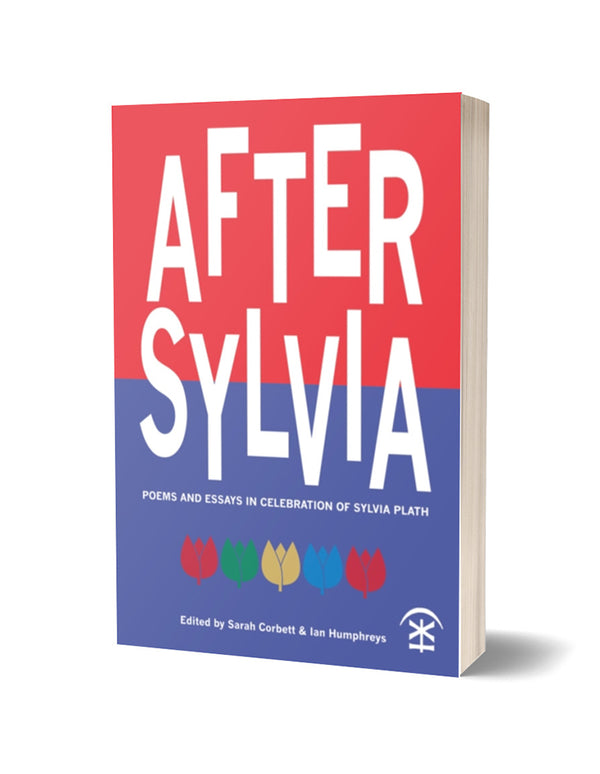 After Sylvia is an anthology of new writing celebrating the work and legacy of Sylvia Plath. Published by Nine Arches Press in October 2022, the book honours the 90th anniversary of Plath's birth through a range of compelling poems and thought-provoking essays by leading and up-and-coming poets and scholars from the UK and beyond.

After Sylvia is shaped around five inspiring chapters, each exploring a key Plathian theme: Nature, Rebirth, Womanhood, Mothers & Fathers and Magic. Co-edited by Ian Humphreys and Sarah Corbett, contributors include Mona Arshi, Emily Berry, Mary Jean Chan, Heather Clark, Pascale Petit and Jacob Polley.
This vital anthology sets out to help dispel the myth of Sylvia Plath as tortured genius destined to her fate, by expressing the power and complexity of her work, legacy and reputation as one of the most important and influential writers of the 20th century.
Full list of contributors:
Moniza Alvi, Romalyn Ante, Mona Arshi, Polly Atkin, Tiffany Atkinson, Sally Baker, Colin Bancroft, Emily Berry, Nina Billard Sarmadi, Caroline Bird, Sharon Black, David Borrott, Mary Jean Chan, Heather Clark, Angela Cleland, Jane Commane, Sarah Corbett, Jonah Corren, Gail Crowther, Mari Ellis Dunning, Samatar Elmi, Ruth Fainlight, Daniel Fraser, Rosie Garland, Victoria Gatehouse, Rebecca Goss, Annie Hayter, Gaia Holmes, Ian Humphreys, Julie Irigaray, Bhanu Kapil, Victoria Kennefick, Martin Kratz, Zaffar Kunial, Jennifer Lee Tsai, Carola Luther, Karen McCarthy Woolf, Roy McFarlane, Nina Mingya Powles, Mark Pajak, Caleb Parkin, Pascale Petit, Jacob Polley, Niamh Prior, Shivanee Ramlochan, Clara Rosarius, Devina Shah, Penelope Shuttle, Jean Sprackland, Laura Stanley, Paul Stephenson, Degna Stone, Dorka Tamás, Anastasia Taylor-Lind, Peter Wallis, Tom Weir, Sarah Westcott, Merrie Joy Williams, Sarah Wimbush, Tamar Yoseloff.
Sarah Corbett is a poet, writer, teacher, producer and editor. She has published five poetry collections, most recently A Perfect Mirror (Pavilion Poetry/Liverpool University Press, 2018), including the verse-novel And She Was (Pavilion Poetry, 2015). Both collections were Highly Commended in the Forward Poetry Prizes. Her first collection The Red Wardrobe (Seren, 1998) won an Eric Gregory Award and was shortlisted for the Forward Best First Collection Prize and the T.S. Eliot prize. A new collection is forthcoming from Pavilion in 2023. Sarah also writes fiction and has won two Northern Writer's Awards and her work has been longlisted for the Mslexia and Caledonia first novel prizes. Sarah is Senior Lecturer in Creative Writing at Lancaster University, and lives in Hebden Bridge, where she will direct the first Sylvia Plath Literary Festival in 2022.
Ian Humphreys lives in West Yorkshire. His debut collection Zebra (Nine Arches Press, 2019) was nominated for the Portico Prize. He is the editor of Why I Write Poetry (Nine Arches Press, 2021), and the producer and co-editor of After Sylvia (Nine Arches Press, 2022). Ian's work has been highly commended in the Forward Prizes for Poetry and won first prize in the Hamish Canham Prize. His poems are widely published in journals, including The Poetry Review and Poetry London, and he has written for the BBC. Ian is a fellow of The Complete Works.
Nine Arches Press
Join the Poetry Book Society for 25% off all books