A Stranger's Mirror by Marilyn Hacker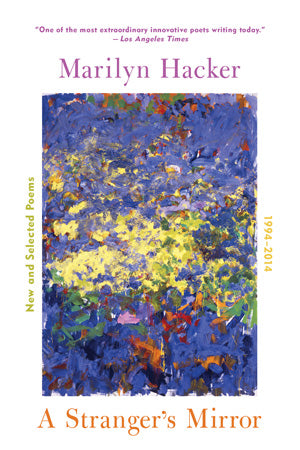 A selection of poems that addresses the quotidian and the global, from one of our most essential poets.
Drawing on two decades worth of award-winning poetry, Marilyn Hacker's generous selections in A Stranger's Mirror include work from four previous volumes along with twenty-five new poems, ranging in locale from a solitary bedroom to a refugee camp.
In a multiplicity of voices, Hacker engages with translations of French and Francophone poets. Her poems belong to an urban world of cafés, bookshops, bridges, traffic, demonstrations, conversations and solitudes. From there, Hacker reaches out to other sites and personas: a refugee camp on the Turkish/Syrian border; contrapuntal monologues of a Palestinian and an Israeli poet; intimate and international exchanges abbreviated on Skype—perhaps with gunfire in the background.
These poems course through sonnets and ghazals, through sapphics and syllabics, through every historic-organic pattern, from renga to rubaiyat to Hayden Carruth's "paragraph". Each is also an implicit conversation with the poets who came before, or who are writing as we read.
A Stranger's Mirror is not meant only for poets. These poems belong to anyone who has sought in language an expression and extension of his or her engagement with the world—far off or up close as the morning's first cup of tea.
Join the Poetry Book Society for 25% off all books