A Poem Goes About on Foot by Joaquín Pasos, translated by Roger Hickin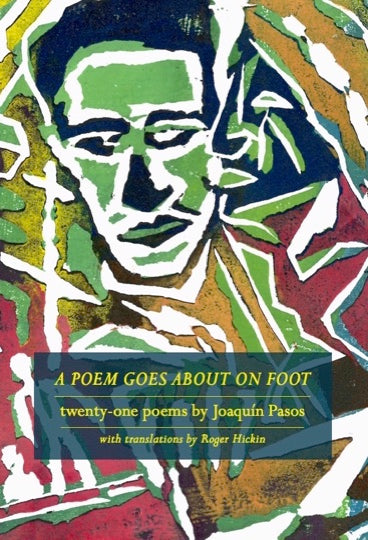 A Poem Goes About on Foot is a bilingual selection of twenty-one poems with translations from the Spanish by New Zealand translator Roger Hickin. Joaquín Pasos (1914–47) was a precocious Nicaraguan poet who by the time he was sixteen was one of the pillars of the experimental Vanguardia group. His work, which ranges from playful lyrics to the apocalyptic masterpiece 'Canto de guerra de las cosas', appeared in journals at home and abroad, but he never published a book. Although he never travelled, in his poetry he was, as Ernesto Cardenal noted, 'the most travelled of Nicaraguan poets'. He sometimes wrote in 'inexplicable English', and was the first poet to attempt to enter the world of the indigenous Nicaraguans.
 Cardenal wrote of him: 'Joaquín was very happy, and at times, bohemian. He gave himself up to a life of revelry which was more than his delicate body could withstand, although he was also deeply religious. In that life he squandered all his money without a thought for tomorrow and squandered his imagination and his talent and his time and his health. He squandered his life, and died an early death.'
 Almost unknown to English-language readers, Joaquín Pasos is one of Nicaragua's most important and beloved poets. While some English translations of his poems have appeared in journals and anthologies, this is the first bilingual Spanish/English volume devoted to Pasos to be published.
Roger Hickin has published translations of Nicaraguan poets Carlos Martínez  Rivas, Ernesto Cardenal and Blanca Castellón, and Mexican poet Rogelio Guedea.
Join the Poetry Book Society for 25% off all books