A Man's House Catches Fire by Tom Sastry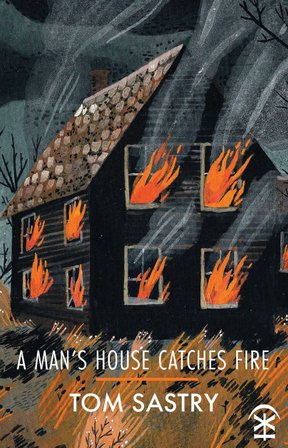 What to do when everything goes up in flames? Summon up Tom Sastry's poems, with all their elegant, satirical and hurt-quenching power: here are nightmares and fairytales, museums full of regret, misenchantments and magic for dark times.
Whilst the accelerants of complicity and violence seep from these exacting poems, Sastry's wit and stoicism slake the bonfire of modern troubles. They defiantly ask us: why do "the great marquees of England" stand empty? How old is your heart? Why aren't we listening to the sea, and what it has to say? Funny, marvellously frank and often courageous, A Man's House is on Fire urges us to take a long hard look into the flames and avert the disasters of the heart, home and nations that threaten to befall us all.
This much anticipated debut collection by poet Tom Sastry follows on from his pamphlet Complicity, selected by Carol Ann Duffy for the Poetry Business Laureate's Choice and awarded the Poetry Book Society Pamphlet Choice.
"Tom Sastry's dextrous ability to pivot mid-sentence from sassy deadpan to the ruinously heartfelt."  – Will Barrett, Poetry School Books of the Year on Complicity
"Unafraid to address large political and social concerns as well as smaller personal ones, this is an emotionally complex debut with a great deal of charm and freshness about it."
– Jacqueline Saphra on Complicity
Join the Poetry Book Society for 25% off all books