A House With No Doors. Ten Georgian Women Poets, translated by Natalia Bukia-Peters and Victoria Field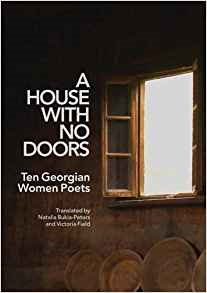 This anthology is the first to present contemporary Georgian women poets translated into English alongside the original Georgian.
Poetry by women in Georgia dates back to medieval times with Queen Borena and Queen Tamar among the earliest named poets in the Georgian language.
This anthology opens with poems by Lia Sturua one of the most established poets in Georgia and one of the first to write in free verse. It concludes with poems by Lia Liqokeli and Salome Benidze whose reputations were established before they were thirty. This gives the reader a unique overview of Georgian poetry over the recent decades that have coincided with tumultuous political and social changes.
These ten women poets, distinct in form and theme, open a window onto a culture in transition, one where literature plays a central role in culture and identity, and where the vivid and fierce voices of women are crucial.
The poets incuded in this anthology are: Lia Sturua, Rusudan Kaishauri, Maia Sarishvili, Nato Ingorovka, Lela Samniashvili, Tea Topuria, Eka Kevanishvili, Diana Anphimiadi, Lia Liqokeli, Salome Benidze.
Join the Poetry Book Society for 25% off all books