A Girl in a Blue Dress by Rachel Burns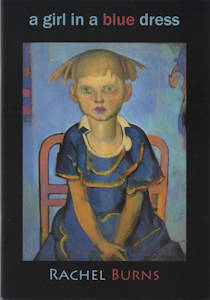 Just as Lowry paints scenes of working class life around him, Rachel Burns captures the very texture of life in Durham's hinterland of ex-mining villages: scent of wild garlic in the woods, the rasp of the pheasant, chat of pigeon fanciers. She even echoes Lowry's chalk-white skies. But her imagination is defiant. She's a misfit, reading the TLS in the Library, and observer of her former self, a girl in a blue dress, who wanders off. Is she Okay?
Her poems risk bleakness but deliver a dark baroque humour and play with household tensions as child, wife, mother. She's survived the hard way. It's a triumph that the colour, drama and tenderness of her voice have survived with her. Her poetry is a brilliant interlacing of innocence and experience with a thread of disquiet always present.
"In her debut pamphlet, Burns shows her extraordinary range and clarity. Her poems lure me into an intimate, almost confessional space; and I step into their heartfelt territory willingly, before I am returned to myself after the characteristic bite of her closing lines." — Elisabeth Sennitt Clough
Join the Poetry Book Society for 25% off all books