A Fondness for the Colour Green by Charlie Baylis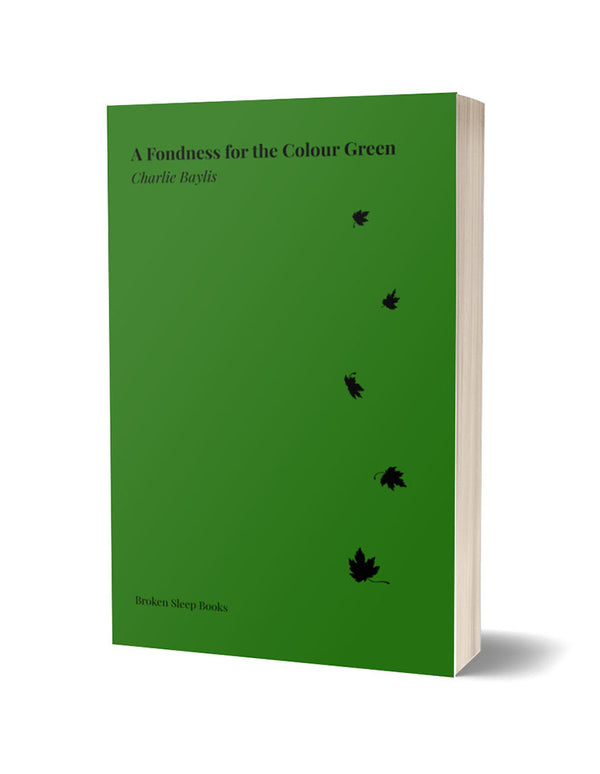 In his debut collection a fondness for the colour green Charlie Baylis writes with the uninhibited brio of a drunken text to one's ex. Ophelia face down in oceans of milk, suitcases full of whipped cream, Sinatra sleeping inside a spoon and other dreamlike images mesmerise the reader like confetti falling onto a bonfire. Brimming with references to pop culture, this is a playful yet profound, electrifying debut collection from an essential poet.
PRAISE for a fondness for the colour green:
Baylis has an uncanny ability to shift tone, as if between languages, with absolute fluency: these poems can turn from innocence to cynicism and back again within a single line. A surface reading makes you reach for terms like anarchic or surreal, but that doesn't do the work justice, neither its soul nor its worldliness nor its unconditional love and petty irritation. The speakers get stuck on the details (fake lashes, limerence, unhealthy parasocial obsession with celebrity or poetry) but they're always going somewhere and urgently gesturing you to follow. a fondness for the colour green is utterly and unabashedly contemporary, but there's nothing light or modish, and what stands out are the moments of wounded humour and wonder, plenty of wonder, despite it all, because of it all."
   — Luke Kennard, Notes on the Sonnets
With tourmaline imagery, and reiterative hopes set against reiterative despairs, Baylis dances his way through this compelling and picaresque collection. Arch and playful in their acknowledgement of that gulf between poet and 'I', these poems rejoice in showing their conceptual strings, but never dispense with that vital vulnerability. a fondness for the colour green is a self-aware, sad, and beautiful book."
   — Susannah Dickey, Common Decency
ABOUT Charlie Baylis:
Charlie Baylis is from Nottingham, England. He is the editor of Anthropocene. His poetry has been nominated three times for the Pushcart Prize and once for the Forward Prize. This is his first collection of poetry. He spends his spare time completely adrift of reality.
Broken Sleep Books
Join the Poetry Book Society for 25% off all books