This Rare Spirit: A Life of Charlotte Mew by Julia Copus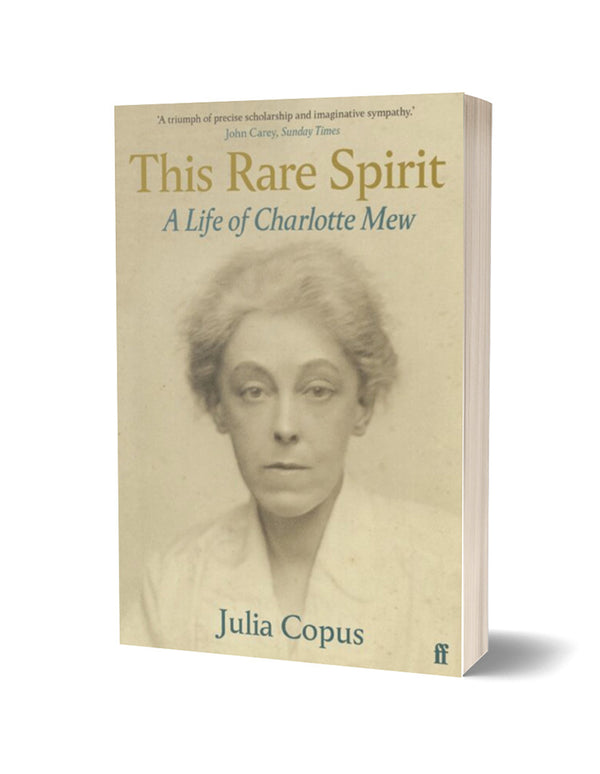 The first comprehensive biography of this undervalued writer, who was considered 'far and away the best living woman poet' in her day.

Andrew Motion's Spectator Book of the Year.
'One of the many achievements of This Rare Spirit is its rejection of that tired view of the poet as mouse that barely roared in favour of a true sense of a spikily modern woman, bound by various obligations but resilient, headstrong, and poetically inventive . . . Copus's diligent, scholarly, sensitive work should help Mew's pipe play on for years to come.' Declan Ryan, Los Angeles Review of Books
'[A] supreme biography . . . It is hard to do justice to the breadth of research Copus has done here, or the compassionate, detailed conjuring of Mew and her milieu . . . An essential book, a classic work of literary biography.' Seán Hewitt, Irish Times
'[K]eenly intelligent, fascinating and nuanced biography . . . Save Charlotte Mew! And read this book.' Joanna Kavenna, Literary Review
'An exquisitely told account of the life of a half-forgotten London poet whose work was admired by Hardy, Sassoon and Virginia Woolf. Julia Copus does her justice at last.' Claire Tomalin
'This Rare Spirit is a classic – the biography of Mew we have all been waiting for.' Fiona Benson
The British poet Charlotte Mew (1869–1928) was regarded as one of the best poets of her age by fellow writers, including Virginia Woolf, Siegfried Sasson, Walter de la Mare and Marianne Moore. She has since been neglected, but her star is beginning to rise again, all the more since her 150th anniversary in 2019. This is the first comprehensive biography, from cradle to grave, and is written by fellow poet Julia Copus, who recently unveiled a blue plaque on Mew's childhood house in Doughty Street and was the editor of the Selected Poetry and Prose (2019).
Mew was a curious mix of New Woman and stalwart Victorian. Her poems speak to us strongly today, in these strangely mixed times of exposure and seclusion: they reveal the private agony of an isolated being who was forced to keep secret the tragedies of her personal life while being at the same time propelled by her work into the public arena. Her poetry transfigures that very private suffering into art that has a universal resonance.
Faber
Join the Poetry Book Society for 25% off all books