The Dictatorship of Poetry by By Zurab Rtveliashvili, translated by Natalia Bukia-Peters and Victoria Field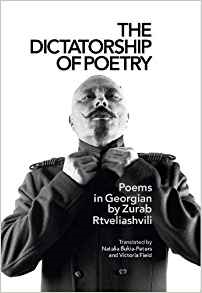 This is the first translation into English of a major collection of work by the celebrated Georgian poet, performer and human rights activitist, Zurab Rtveliashvili.
The Dictatorship of Poetry includes poems written before his emigration to Sweden and more recent work completed since.
Zurab Rtveliashvili's poetry is avant-garde and full of linguistic and sound experiments and at the same time highlights and reflects on key socio-political issues whilst preserving the dynamism of his poetry. According to Zurab Rtveliashvili, today's reality means we are all living in a world dominated by a verbal industry which labels everything according to a special code. With his unique poetic process, Zurab Rtveliashvili breaks free from these shackles and shows his readers how language can go far beyond simple alphabetical notations and grammatical norms.
Join the Poetry Book Society for 25% off all books