States of the Body Produced by Love by Nisha Ramayya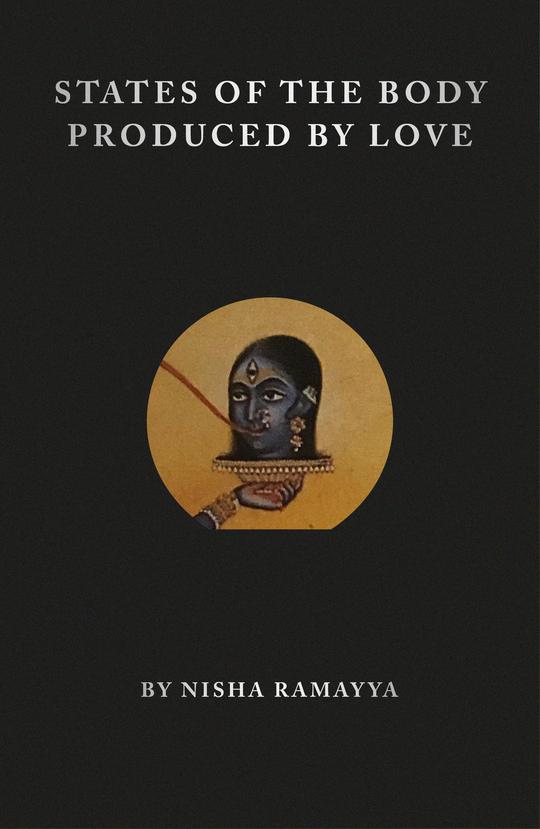 Love is a many-headed snake in Nisha Ramayya's debut book, twisting its way through devotion, sacrifice and bliss. 
States of the Body Produced by Love conjures an opalescent world by way of heritage, ritual and myth across genres and forms, mixing poetry, prose, autobiography and theory. Thousand-petalled lotuses bloom inside skulls, goddesses with dirty feet charm honeybees, strains of jazz standards bleed into anti-national anthems. Ramayya's writing meditates on diasporic identity, roams genealogies of language and resistance and roots itself between ancient Sanskrit texts and contemporary feminist prose poems. Seeking a way home across Britain, India and the infinite expanse, Ramayya discovers that homecoming – the impossible return – is a process of make-believe and magical thinking.
In Ramayya's visionary poetry, the body assumes as many forms as love produces states: attraction and repulsion, excitement and exhaustion, selfishness and the dissolution of self. Desire, eroticism and care contain the possibilities of shame, fury and destruction. Moving towards and away from love, being translated and transformed by love, suffering under love and refusing its power – the poems in this book never leave love's hold.
Join the Poetry Book Society for 25% off all books