Bottle by Ramona Herdman
Spring 2018 Pamphlet Choice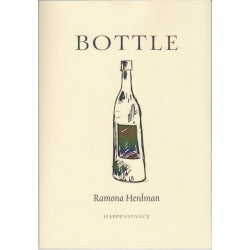 After studying creative writing at UEA, Ramona Herdman had a first collection published in 2003 and a poem in that year's Forward anthology—followed by several blank years of not writing at all. But since 2009, new work has appeared widely in the magazines, and some of it has made its way into this unique pamphlet.
Bottle deals with a feature of UK culture that's familiar, celebrated and dangerous—not least for writers. A fatal attraction to alcohol sometimes runs in families; sometimes gallops.
All the more need for this witty, painful and courageous examination of something that perplexes and preoccupies so many of us.
Join the Poetry Book Society for 25% off all books